Diapers make a bigger difference than most people imagine. Without diapers, kids can't go to daycare. Without daycare, parents can't go to work or attend school. When parents can't provide adequate diaper supplies, diapers don't get changed as often as they should. This leads to health concerns like diaper rash and infection. A sufficient supply of diapers promotes physical and mental well-being for both children and their guardians.
APPLY FOR DAKOTA DIAPER PANTRY ASSISTANCE HERE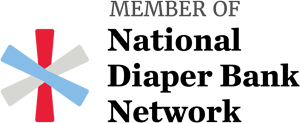 Diaper Assistance Eligibility
Program is for children up to age 4. All applicants must provide proof of identity. (Ex: driver's license or other photo ID. Photo is required.)
All applicants must live in our service area.
Applicants must be one or more:
Income Restricted​
If income is restricting you from getting diapers, and you qualify for any government assistance (Medicaid, SNAP, WIC, etc.), please submit proof of assistance.
If income is restricting you from getting cloth, but you do not qualify for government assistance, please explain why in your application.
Furloughed
If you are affected by a government shutdown, please upload a copy of your government ID or paperwork with your application to verify that you are a government employee and are not getting paid due to the shutdown.
US Veteran or Active Duty in Immediate Family
Provide a copy of LES, DD214, or ID card with application.
Fostering Children
Provide placement paperwork with application.
Refugee
Provide proof of refugee status from USCIS with application.
Disaster Victim
Provide proof from the Red Cross of your disaster status with application.
Providing for a Child with a Disability
Provide supporting documentation of a disability or medical diagnosis.
Additional support for diaper needs available through The National Diaper Bank Network and Aeroflow.
Program is based in Minot, ND.